Our Bat Control & Removal Services
Bats are nocturnal (active at night) animals. Bats may carry bacteria and viruses which can be harmful to humans. If you find a bat inside your home, do not attempt to help the animal yourself or touch it in any way.

Bats see at night using echolocation. People who are not trained and vaccinated should not handle bats. The most common and dangerous disease that is transmitted through the feces is histoplasmosis, which is when spores from the feces are inhaled and cause some severe symptoms and can affect breathing, in some cases even proving fatal if it is left untreated. This kind of work is certainly not something that you should undertake lightly, as it is not a pleasant job and there are plenty of precautions that you need to take, and in many cases it can be better to hire a professional to carry out the work. As well as removing any loose droppings, in many cases the guano will have become stuck in insulation material or to the beams in a roof area, and to really remove these it can require steps such as removing a layer of the insulation material or scraping it from the wood. Once collected, this should be disposed of safely so that nobody become exposed to the droppings and any airborne spores.

Call Desert Squad Pest & Wildlife our local professional team to help with your bat problem in Las Vegas, North Las Vegas, Paradise, Henderson.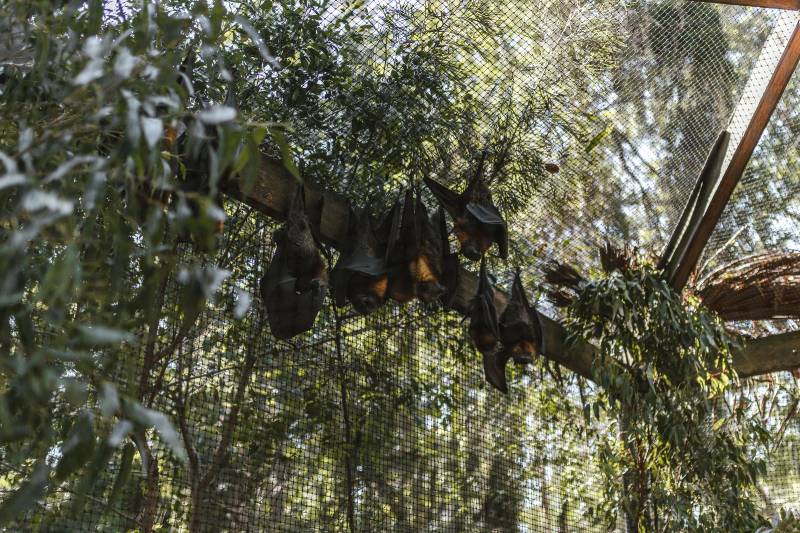 Our Unique Approach To Bat Removal & Repairs
Our number one goal is to give you the instant relief you need and the long-term protection you deserve from bats. Because every situation is unique, we'll use a combination of the following measures to address your bat problem at the source: 
We'll start by performing a thorough inspection in and around your home. During this time, we will identify the species, areas of activity, potential entry points, and attractants. This step increases the chances of our exclusion, and seal work being successful.
One way bat door can be defined as an exclusion device to get rid of bats. Allowing the bat to exit but not return. One way bat door are great for getting rid of bat from attics, eves, and walls.
We'll start by performing a thorough inspection in and around your home. During this time, we will identify the species, areas of activity, potential entry points, and attractants. This step increases the chances of our removal, and seal work being successful.
To prevent or get rid of bats, we make roosting and nesting areas less attractive. We screen and seal in access voids, resting areas and prevent landing by using our special products, to prevent bats from roosting or nesting.
Sealing or screening should be done to all Holes around the roof and the attic should also be sealed. Sealing all the cracks as well as the holes will ensure these points do not act as entry points even in the future. For area that cannot be corrected by simply sealing, then we conduct a complete repair.
Desert Squad Pest & Wildlife will  sanitize the attic to remove pathogen, bacteria, and pheromones to prevent health hazards and prevent bats from having interest in the areas.
In an attic, due to years of bat activity sometimes the entire insulation may need to remove and replace and in some cases the attic may just need a cleanup. cleanup consist of cleaning all bat dropping and remove some affected insulation.
Why Choose Desert Squad Pest & Wildlife
We're passionate about helping people just like you get rid of unwanted pest problems. As such, we are proud to be the only pest & wildlife control company in  Las Vegas promising excellence in value, service, and trust.
Frequently Asked Questions
Home inspections are ALWAYS free and estimates are given with long-term solutions to remove the bats safely and warranty options to assure they do not re-enter your home. If you are concerned about a bat problem, contact our local professional team for bat removal and cleanup services today.
We guarantee all our work and back it with a full  three year warranty. Our estimates and service contract is to removal and bat proofing your entire home or commercial building.
In Las Vegas, NV , regulators allow bat proofing and bat removal beginning sometime from early August to late August and continuing until females start caring for young again in early spring, March to May.
$5 to start For Your First Pest Service With 6 Month service agreementb
Looking for long-term protection from common household pests? Choose our 6 month service plan and save $124 on your first pest service.
★★★★★
"I had a Bee problem under my 2nd story roof line. I found desert squad through friend, they send Michael over and he remove the hive and all the honey comb. He then repair the roof where he opened up to remove the honey comb. Very professional service, the technician is a very nice guy highly recommended, Fair price. Thank you desert squad. Excellent job."
- Karen W.
★★★★★
"Finding Michael has been a true gift from God. His knowledge base is absolutely incredible, only to be matched with an amazing personality! We hired several different mainstream companies and never could contain our rodent problem until we hired Desert Squad Pest & Wildlife. Michael is a genius, and willing to do the dirty work required to get the job done, at a fair price!"
- Game O.
★★★★★
"Mike is a pure professional. He knows what he is talking about, and what to do about pests. He was very knowledgeable and precise in his actions to take care of the problem. He knows customer service skills which are lacking these days !. He was also half the price of the competitors out there. We HIGHLY recommend this company for your pest problems."
- Jade S.