Our Snake Trapping & Removal Service
In the Las Vegas area, we have several species of venomous snakes that residents need to be aware of and always stay away from—the Mojave Desert Sidewinder, the Mojave Rattlesnake, the Southwestern Speckled Rattlesnake, and the Diamondback.
One reason that snakes are so dangerous is that many species have venom that often kill in a matter of minutes. According to the World Health Organization (WHO), 600 of the known 3,000 species of snakes are venomous. That's one reason venomous snakes have such high fatality numbers.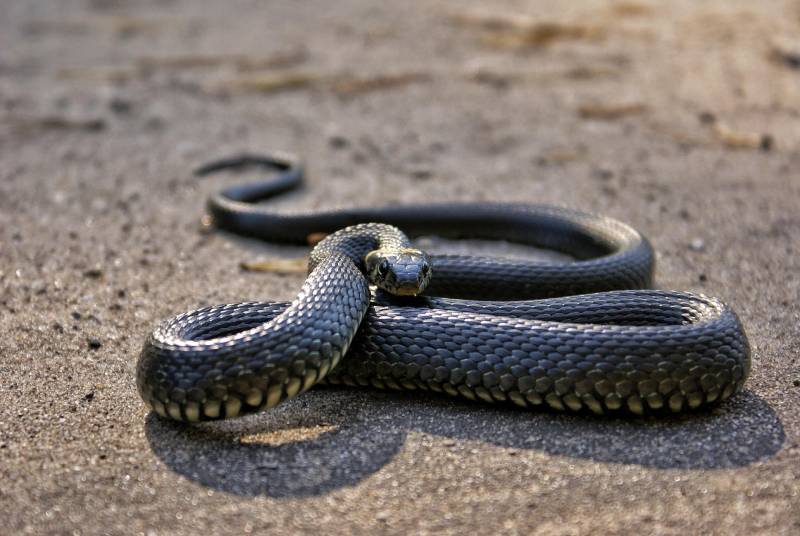 Our Approach To Snake Trapping & Removal
Our number one goal is to give you the instant relief you need and the long-term protection you deserve from snakes. Because every situation is unique, we'll use a combination of the following measures to address your snake problem at the source:
1. our unique snake inspection.
We'll start by performing a thorough inspection in and around your home. During this time, we will identify the species, area of activity, potential entry points that the snake has gained entry through, and attractants. This step increases the chances of our work being successful.
If you discover a snake in your house, act as soon as possible, for both the snake's and your peace of mind. Remain calm and avoid disturbing the snake or driving it into hiding.
Call our local professional team to help with your snake problem in the Las Vegas, North Las Vegas, and Henderson.
Snake fencing barriers are the best physical barrier to stop snakes from entering your yard. We like to make sure the fence is at least 2-3 feet tall to prevent large snakes from entering and keep those baby rattlers out with 1/4-inch screen. We bury the screen 3-4 inches deep or bend outward 3 or more inches of the base to discourage other animals from digging under the fence. The benefit of the fence is to keep snakes and other animals out of your property.
Why Choose Desert Squad Pest & Wildlife
We're passionate about helping people just like you get rid of unwanted pest problems. As such, we are proud to be the only pest control company in [Las Vegas] promising excellence in value, service, and trust.
Frequently Asked Questions
In short, yes, but rest easy that there are only a small portion of snakes in Las Vegas contain deadly venom. 
Snakes eat rodents, birds, lizards, and other small animals.
Keep a safe distance from the snake. Stay visible to the snake, as your presence intimidates its movement and keep an eye on it. Call our local professional snake removal team. 
$69.99 to start For Your First Pest Service With 6 Month service agreementb
Looking for long-term protection from common household pests? Choose our 6 month service plan and save $124 on your first pest service.
★★★★★
"I had a Bee problem under my 2nd story roof line. I found desert squad through friend, they send Michael over and he remove the hive and all the honey comb. He then repair the roof where he opened up to remove the honey comb. Very professional service, the technician is a very nice guy highly recommended, Fair price. Thank you desert squad. Excellent job."
- Karen W.
★★★★★
"Finding Michael has been a true gift from God. His knowledge base is absolutely incredible, only to be matched with an amazing personality! We hired several different mainstream companies and never could contain our rodent problem until we hired Desert Squad Pest & Wildlife. Michael is a genius, and willing to do the dirty work required to get the job done, at a fair price!"
- Game O.
★★★★★
"Mike is a pure professional. He knows what he is talking about, and what to do about pests. He was very knowledgeable and precise in his actions to take care of the problem. He knows customer service skills which are lacking these days !. He was also half the price of the competitors out there. We HIGHLY recommend this company for your pest problems."
- Jade S.