Our Spider Exterminator Service
Believe it or not, spiders are a beneficial pest. They are skilled predators, using their webs to trap unsuspecting pests in and around your home. And, while most house spiders are harmless, discovering their webs can be an unsettling experience. Keep in mind the venomous variety (black widow, brown recluse, etc.) do not create webs indoors, so if you stumble upon these pests while you're outside, please give us a call. Bites are rarely fatal, but they are very painful, and it's better to be safe than sorry!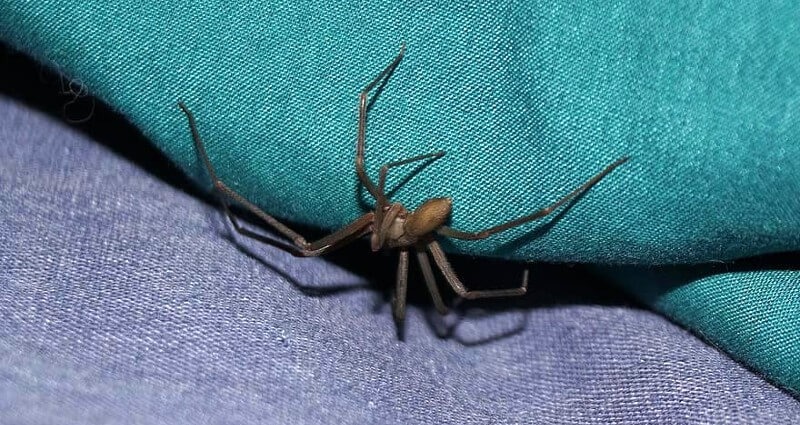 Our Unique Approach To Spider Extermination
Since every spider situation is unique, we'll come up with a custom solution for you. With over 7 years of experience killing spiders, we're
Las Vegas's
leading provider of spider control services. Learn how we keep spiders (and other common household pests) out of your home:
1. SPIDER SITE INSPECTION
We'll perform a walk-through in and around your home, checking entryways and hotspots for signals of spider activity. If you have an active infestation, we'll begin eliminating spiders during this initial visit.
2. WEBBING SWEEP + SANITATION
We'll begin by reducing favorable spider conditions. This includes, but is not limited to, decluttering your yard and crawl space, and removing any ground covers against your walls. We'll also knock down all webs and sweep the perimeter of your home (windows, doors, utility boxes, etc.).
3. LIQUID SPIDER TREATMENT
If spiders are coming indoors hunting for prey, we'll carefully apply a residual insecticide around all entry points and the perimeter of your home. We'll also spray along baseboards, in corners, and under furniture. These two treatments keep spiders where they belong… outdoors.
4. DUSTING SPIDER TREATMENT
If you're dealing with a large spider problem, we'll also apply insecticide dust in your attic, between your wall voids, and under your baseboards. We use a cobweb duster head to brush the dust into hard-to-reach areas like the corners of your basement, garage, and porch to ensure full coverage.
Finally, we'll use glue boards to catch spiders and monitor the population. We'll place these in hotspots and areas of activity. This step allows us to ensure your spider control program is effective and make adjustments as needed. Our goal is to keep your family safe and your home spider-free!
Why Choose Desert Squad Pest & Wildlife
We're passionate about helping people just like you get rid of unwanted pest problems. As such, we are proud to be the only pest & wildlife control company in Las Vegas promising excellence in value, service, and trust.
Frequently Asked Questions
$69.99 to start For Your First Pest Service With 6 Month service agreementb
Looking for long-term protection from common household pests? Choose our 6 month service plan and save $124 on your first pest service.
★★★★★
"I had a Bee problem under my 2nd story roof line. I found desert squad through friend, they send Michael over and he remove the hive and all the honey comb. He then repair the roof where he opened up to remove the honey comb. Very professional service, the technician is a very nice guy highly recommended, Fair price. Thank you desert squad. Excellent job."
- Karen W.
★★★★★
"Finding Michael has been a true gift from God. His knowledge base is absolutely incredible, only to be matched with an amazing personality! We hired several different mainstream companies and never could contain our rodent problem until we hired Desert Squad Pest & Wildlife. Michael is a genius, and willing to do the dirty work required to get the job done, at a fair price!"
- Game O.
★★★★★
"Mike is a pure professional. He knows what he is talking about, and what to do about pests. He was very knowledgeable and precise in his actions to take care of the problem. He knows customer service skills which are lacking these days !. He was also half the price of the competitors out there. We HIGHLY recommend this company for your pest problems."
- Jade S.