Raccoon Trapping & Removal
Our Raccoon Trapping & Removal Services
A family of raccoons is generally something to worry about. Roof damage is often the result of raccoons searching for a place to nest. The female raccoons are known to tear off roof shingles and ventilators to gain access to the attic for a nesting site. Inside, they might also make space for their nesting by tearing out insulation. If you notice droppings, tracks or signs of feeding in your home, it's likely that you have raccoons.
Common signs that raccoons might be on your property include noises on the roof, in the attic, or chimney. Because they're nocturnal, you'll typically see them out at night, especially around food sources, like the garden.
Call Desert Squad Pest & Wildlife our local professional team to help with your Raccoon problem in Las Vegas, North Las Vegas, and Henderson.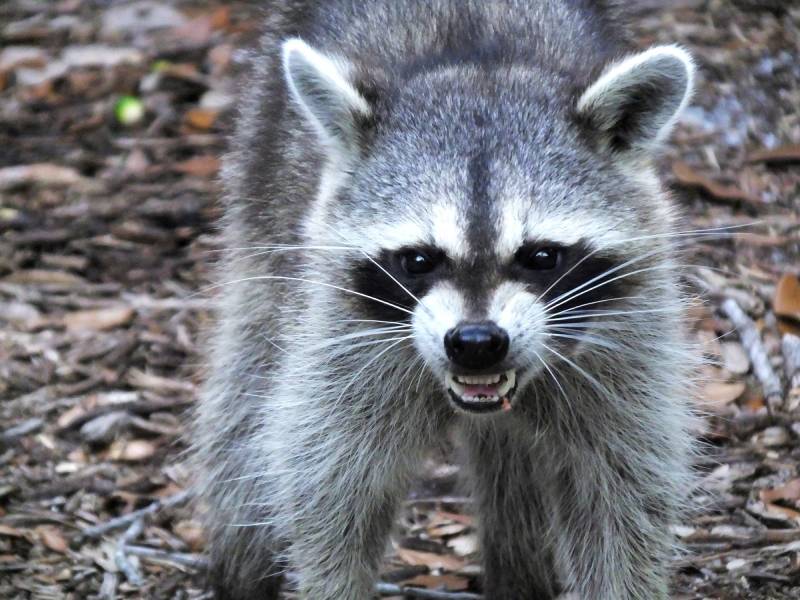 Our Approach To Raccoon Trapping & Removal Services
Our number one goal is to give you the instant relief you need and the long-term protection you deserve from raccoons. Because every situation is unique, we'll use a combination of the following measures to address your raccoon problem at the source.
When we arrive we will do a full property inspection and give you a seal up quote on all entry points we find. Entry points can be low on the structure and high.
2. Raccoon Trapping & Exclusion
Raccoons are intelligent creatures that can cause damage to your property. One method of removing a raccoon from your property is using a live trapping to catch and release the animal. Live trapping is a safe and effective way to keep raccoons away from your home.
After we get rid of your existing raccoon problem, we'll prevent them from coming back. The entire process, from start to finish, can takes 5 to 14 days on average., screening, sealing, caulking, and other products may be used to seal any entry point. Our goal is for your property to be 100% Raccoon free!
In the attic we perform cleanup and sanitization the droppings and nesting site to remove pathogen, bacteria, and pheromones to prevent health hazards and prevent raccoons from having interest in the areas.
4. Sealing open entry points
Sealing or screening should be done to all Holes around the roof and the attic should also be sealed. Sealing all the cracks as well as the holes will ensure these points do not act as entry points even in the future. For area that cannot be corrected by simply sealing, then we conduct a complete repair.
Why Choose Desert Squad Pest & Wildlife
We're passionate about helping people just like you get rid of unwanted pest problems. As such, we are proud to be the only pest & wildlife control company in Las Vegas promising excellence in value, service, and trust.
Frequently Asked Questions
Scratch marks and droppings left at the base of trees or woodpiles are also strong signs of raccoon activity. If these signs are undetected, look out for toppled garbage cans, trash strewn across your yard, low growls and shuffling noises as raccoons run along your roof or inside your walls.
Since it is illegal in most states to trap and relocate raccoons without a license, it is best to leave this work up to the professionals. Contact the professionals at Desert Squad Pest & Wildlife to safely remove raccoons from your property.
We guarantee that you will receive the most courteous, honest, and professional wildlife management service in Las Vegas, North Las Vegas And Henderson or it's FREE
$99 For Your First Pest Service With Annual Plans.
Looking for long-term protection from common household pests? Choose our annual service plan and save $100 on your first pest service.
★★★★★
"I had a Bee problem under my 2nd story roof line. I found desert squad through friend, they send Michael over and he remove the hive and all the honey comb. He then repair the roof where he opened up to remove the honey comb. Very professional service, the technician is a very nice guy highly recommended, Fair price. Thank you desert squad. Excellent job."
- Karen W.
★★★★★
"Finding Michael has been a true gift from God. His knowledge base is absolutely incredible, only to be matched with an amazing personality! We hired several different mainstream companies and never could contain our rodent problem until we hired Desert Squad Pest & Wildlife. Michael is a genius, and willing to do the dirty work required to get the job done, at a fair price!"
- Game O.
★★★★★
"Mike is a pure professional. He knows what he is talking about, and what to do about pests. He was very knowledgeable and precise in his actions to take care of the problem. He knows customer service skills which are lacking these days !. He was also half the price of the competitors out there. We HIGHLY recommend this company for your pest problems."
- Jade S.