Opossum Control & Removal
Professional Opossum Solutions: Comprehensive Services by Desert Squad Pest & Wildlife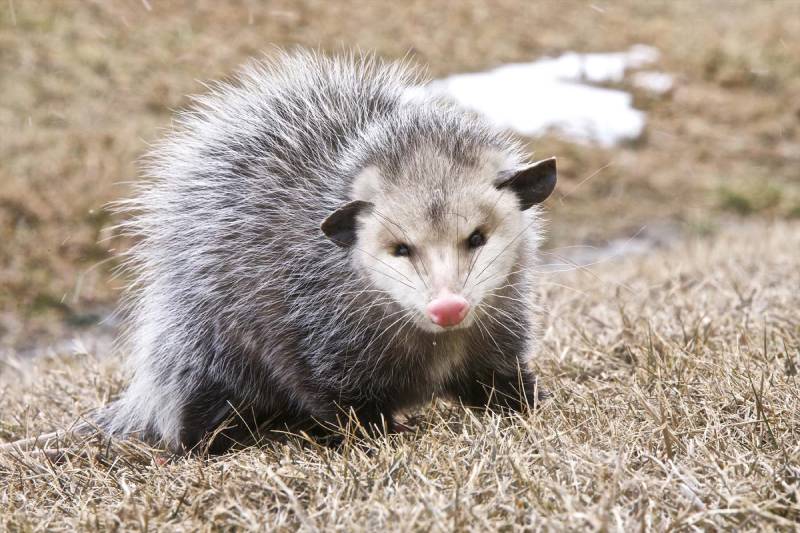 re opossums causing disruptions on your Las Vegas property? Turn to Desert Squad Pest & Wildlife for expert opossum removal services designed to restore tranquility to your home. Our knowledgeable team specializes in a range of comprehensive services that address opossum-related concerns from start to finish.
Our Approach To Opossum Control & Removal
Thorough Property Assessment:
We leave no corner unexamined as we meticulously assess your property. From the roof to the foundation, our assessment identifies potential entry points, nesting areas, and any damage caused by opossums.
Effective Opossum Trapping:
Employing humane trapping methods, our professionals remove opossums safely and efficiently. We prioritize both human safety and the well-being of the wildlife we handle, ensuring ethical practices throughout the process.
Feces Cleanup and Sanitization:
Opossum feces can harbor harmful pathogens, posing health risks. Our specialized cleanup and sanitization services eliminate hazardous waste, creating a healthier environment for your family.
Comprehensive Exclusion Repair:
Sealing or screening should be done to all Holes around the roof and the attic should also be sealed. Sealing all the cracks as well as the holes will ensure these points do not act as entry points even in the future.For area that cannot be corrected by simply sealing, then we conduct a complete repair.
Restoring Property Harmony:
Opossums can lead to property damage and health concerns. At Desert Squad Pest & Wildlife, we prioritize the restoration of a harmonious environment. Our professional services promote ethical wildlife management while ensuring your property's cleanliness and safety.
Experience the difference with Desert Squad Pest & Wildlife. Contact us for an assessment and enjoy opossum removal solutions that prioritize your Las Vegas property's well-being, cleanliness, and serenity. 
Why Choose Desert Squad Pest & Wildlife
Experience Exceptional Wildlife Removal Services with Desert Squad Pest & Wildlife
When it comes to removing bees, raccoons, skunks, snakes, rats, squirrels, bats, and more, Desert Squad Pest & Wildlife stands out as your trusted partner. Our comprehensive wildlife removal services are designed to provide you with unparalleled expertise and peace of mind.
Expertise You Can Rely On:With years of experience in the field, our skilled professionals possess in-depth knowledge of various wildlife species and their behaviors. Whether it's a raccoon, skunk, snake, rat, squirrel, or bat, we understand their habits and know how to effectively remove them from your property.
Safe and Humane Removal:Our approach prioritizes the safety and well-being of both you and the wildlife. We utilize humane methods to trap and relocate animals, ensuring they are taken to suitable habitats where they can thrive naturally without causing harm.
Comprehensive Services:Desert Squad Pest & Wildlife offers a wide range of wildlife removal services, addressing various critters that can invade your property. Whether you're dealing with raccoons rummaging through your trash, skunks under your porch, snakes in your yard, rats in your attic, squirrels in your eaves, or bats in your chimney, we have the expertise to handle it all.
Customized Solutions:Every wildlife situation is unique, requiring tailored solutions. Our team assesses the specific circumstances of your property, developing a customized removal strategy that addresses your immediate concerns while preventing future infestations.
Licensed and Insured:Desert Squad Pest & Wildlife is a licensed and insured company, giving you the confidence that you're working with professionals who adhere to industry standards and regulations.
Quick Response:We understand that wildlife intrusions can be urgent matters. Our team is equipped to provide a swift response, ensuring that the problem is addressed promptly to minimize any potential damage or inconvenience.
Preventive Measures: Beyond removal, we offer recommendations and implement preventive measures to fortify your property against future 
Frequently Asked Questions
1. Because opossums usually enter a building by climbing, you may notice exterior damage first. Often, opossum damage takes the form of torn up shingles and ripped soffit on your rooftop. An opossum infestation may also impact your siding, eaves, and gutter system.
2. Opossums are particularly drawn to cat food. If you have cats, especially any outdoor cats, you may notice that their food disappears more quickly when you have an opossum infestation. If you suspect an opossum infestation, take measures to protect your cats who could become injured in a fight with an opossum.
3. Opossums have a wide range of vocalizations, including hissing and shrieking. Mother opossums also make clicking or lip smacking sounds to call their babies. If you notice these noises when inside a building, chances are you have an infestation or a single opossum trapped inside.
4. As opossums nest, they make lots of ripping, scuttling, and scratching noises. These noises can sound similar to rats or mice, but you will likely notice that the noises seem louder because they're created by a bigger animal.
Additionally, you may notice scratching across a wider area with an opossum infestation than with any other rodent problem because opossums do not stick solely to the edges of the attic space.
5. One of the most distinct signs of an opossum infestation is the smell. Opossums defecate more frequently than most mammals and their droppings can be as large as a house cat's. These wet droppings can soak into insulation and building materials, causing a distinctly unpleasant odor.
Opossums can also become trapped by wiring or other architectural elements and may die there. If you have a dead opossum in your attic, you'll know by the strong smell of decay.
🌿 Timely Opossum Solutions: Our Timeline for Resolution 🌿
Facing an opossum problem on your property? At Desert Squad Pest & Wildlife, we understand the urgency of restoring peace to your environment. Our dedicated team is committed to providing efficient opossum removal services, tailored to the severity of the infestation.
In most cases, our opossum removal process typically takes between 1 to 2 weeks. The timeline may vary based on the extent of the opossum's presence on your property, including factors such as feces accumulation in the attic and damage to insulation.
Our approach involves a systematic strategy, addressing opossum removal, potential damage assessment, cleanup, and exclusion repairs. By identifying the level of infestation and associated issues, we ensure a comprehensive solution that restores the safety and cleanliness of your property.
Rest assured, our commitment to your satisfaction and property's well-being is at the forefront of our services. Desert Squad Pest & Wildlife strives to promptly address your opossum concerns, promoting ethical practices and responsible wildlife management.
Experience efficient opossum removal solutions that prioritize your tranquility. Contact us for an assessment and embark on a journey to a pest-free environment that ensures your peace of mind and property's safety.
$69.99 to start For Your First Pest Service With 6 Month service agreementb
Looking for long-term protection from common household pests? Choose our 6 month service plan and save $124 on your first pest service.
★★★★★
"I had a Bee problem under my 2nd story roof line. I found desert squad through friend, they send Michael over and he remove the hive and all the honey comb. He then repair the roof where he opened up to remove the honey comb. Very professional service, the technician is a very nice guy highly recommended, Fair price. Thank you desert squad. Excellent job."
- Karen W.
★★★★★
"Finding Michael has been a true gift from God. His knowledge base is absolutely incredible, only to be matched with an amazing personality! We hired several different mainstream companies and never could contain our rodent problem until we hired Desert Squad Pest & Wildlife. Michael is a genius, and willing to do the dirty work required to get the job done, at a fair price!"
- Game O.
★★★★★
"Mike is a pure professional. He knows what he is talking about, and what to do about pests. He was very knowledgeable and precise in his actions to take care of the problem. He knows customer service skills which are lacking these days !. He was also half the price of the competitors out there. We HIGHLY recommend this company for your pest problems."
- Jade S.