Welcome to Desert Squad Pest & Wildlife - Your Premier Solution for Effective Gopher Removal in Las Vegas, Summerlin, Henderson, and North Las Vegas!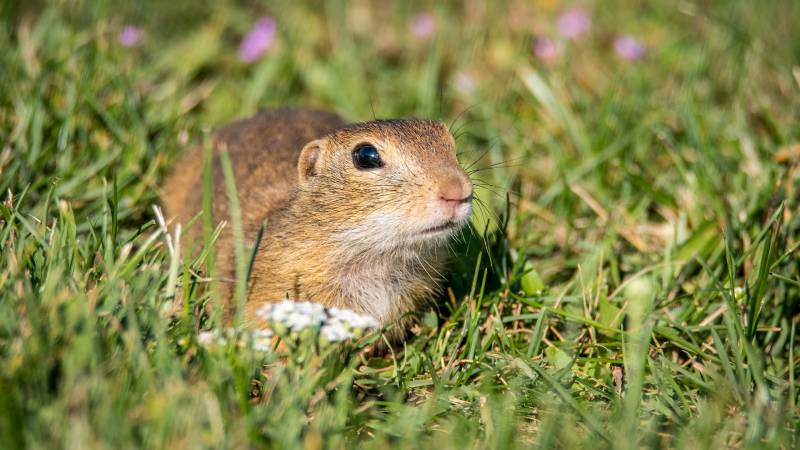 Gophers, those tenacious burrowing rodents, have a knack for making their home almost entirely underground. Equipped with stout forelegs and formidable curved claws, they're uniquely adapted to their subterranean life. A single gopher can construct a labyrinthine burrow system stretching up to 800 feet, covering an entire acre of land.
The astonishing fact is, in a year's time, a solitary gopher can shift a staggering 2 1/2 tons of soil to the surface. However, this remarkable talent comes with consequences. Gophers can inflict significant damage to trees, house foundations, and even pose threats to horses and cattle – animals at risk of broken legs due to the tunnels they create.
Are these persistent pests wreaking havoc on your property? Desert Squad Pest & Wildlife is your go-to solution. Our seasoned team specializes in swift and secure gopher removal, sparing your landscape from unsightly mounds and hazardous tunnels. Rest assured, our expertise ensures a safer environment for all, tackling gopher populations with precision and efficiency.
When gophers make their presence felt, turn to Desert Squad Pest & Wildlife for comprehensive solutions that restore your property's harmony. Partner with us to bid farewell to gopher-related concerns and embrace a landscape free from their disruptive influence.
Our Comprehensive Gopher Removal Services:
1. Comprehensive Property Assessment:
Our experienced team conducts thorough property assessments to identify gopher activity, locating tunnels and burrows that may be hidden beneath the surface. We leave no stone unturned to ensure a complete understanding of the gopher situation.
Every property is unique, and our inspection process allows us to provide tailored solutions that address the specific extent of your gopher issue. Whether it's a residential property or a larger commercial space, we've got you covered.
Accurate Estimate: After the inspection, our experts provide you with a detailed and accurate estimate for the gopher removal services required. This transparent estimate empowers you to make informed decisions about the next steps.
1. Proven Trapping Techniques:
At Desert Squad, we understand the frustration that gophers can bring. Our specialized gopher trapping techniques are designed for swift and effective removal. We're committed to results, trapping for two weeks and checking our traps twice a week to ensure prompt removal, even targeting deceased gophers.
2. Advanced Carbon Monoxide Method:
To tackle gophers at their source, including young gophers in their burrows, we employ cutting-edge technology such as carbon monoxide machines. This humane approach flushes out gophers from their tunnels, leaving your property gopher-free.
3. Preventing Animal Hazards:
Gopher tunnels can create potential hazards for animals such as horses and cattle, increasing the risk of leg injuries. Our gopher removal services help safeguard your animals by eliminating these tunnels, preventing accidents and ensuring their well-being.
From Las Vegas to Summerlin, Henderson to North Las Vegas, Desert Squad Pest & Wildlife is your trusted local partner for gopher removal. No matter where your property is located, we're here to assist.
Choose Desert Squad Pest & Wildlife for comprehensive gopher removal services that prioritize your property's safety and well-being. Contact us today to schedule an inspection and take the first step towards a gopher-free environment. Your peace of mind is our commitment.
Why Choose Desert Squad Pest & Wildlife
When it comes to ridding your property of gophers, in Las Vegas, Desert Squad Pest & Wildlife stands out as the premier choice. Here's why you should opt for our gopher removal services:
1. Expertise Beyond Compare: At Desert Squad, gopher removal is more than a service – it's our expertise. Our team is comprised of seasoned professionals skilled in tackling gopher infestations with precision and efficiency.
2. Thorough Evaluation: We kick off the process with a comprehensive property assessment. By delving into the intricacies of your gopher issue, we unearth hidden tunnels and pinpoint gopher activity, ensuring nothing escapes our attention.
3. Cutting-Edge Technology: Incorporating state-of-the-art technology, such as carbon monoxide machines, sets us apart. We adopt innovative methods to target even the most elusive gopher burrows, ensuring a comprehensive solution.
4. Customized Strategies: Understanding that every property has unique gopher challenges, we tailor our strategies to fit your specific needs. Whether you own a residential or commercial space, our approach is designed for effective results.
5. Animal-Friendly Focus: We recognize the potential hazards gopher tunnels pose to animals like horses and cattle. Our removal strategies not only eliminate gophers but also contribute to preventing accidents and safeguarding your animals.
6. Extensive Service Area: From Las Vegas to Summerlin, Henderson to North Las Vegas, our gopher removal services span diverse locations. Wherever your property is situated, we're equipped to assist.
7. Transparent Cost Structure: Your peace of mind is vital. That's why we provide an upfront and transparent estimate after a thorough inspection, ensuring clarity about the process and associated costs.
8. Dedication to Satisfaction: We're dedicated to your satisfaction. Our commitment to exceptional customer service ensures a gopher-free environment that aligns with your expectations.
Opt for Desert Squad Pest & Wildlife's unparalleled gopher removal services to transform your property into a gopher-free haven. Contact us today to schedule an inspection and experience the difference that Desert Squad brings. Your contentment is our ultimate goal.
Frequently Asked Questions
Confidently Assess the Effectiveness of Our Gopher Control Service at Desert Squad Pest & Wildlife
We understand that ensuring the success of your gopher control service is essential. At Desert Squad Pest & Wildlife, we provide clear indicators that our services are working effectively:
1. Visible Reduction in Gopher Activity: One of the first signs of success is a noticeable decrease in gopher activity. If you observe fewer mounds and tunnels on your property, it's a positive indication that our methods are taking effect.
2. Timely Monitoring and Trapping: Our regular monitoring and trapping schedule ensure that we're actively addressing the gopher population. We trap for two weeks and check traps twice a week, ensuring consistent efforts to reduce their numbers.
3. Professional Insights: Our experts are always available to provide updates and insights about the progress of the gopher control service. We're here to answer any questions you have and address any concerns that may arise.
4. Reduced Damage: As gopher activity declines, you'll likely notice reduced damage to your landscape. Fewer mounds and tunnels mean less disruption to your property.
5. Improved Peace of Mind: With our effective gopher control service in place, you'll enjoy enhanced peace of mind knowing that your property is becoming a gopher-free zone.
6. Ongoing Prevention Measures: We go beyond immediate removal by focusing on prevention. Our experts will provide recommendations to discourage future gopher activity and maintain the results of our control efforts.
7. Continued Support: Even after our initial services, we're available for follow-up consultations to ensure that the gopher control measures are sustaining their effectiveness.
At Desert Squad Pest & Wildlife, we're committed to delivering results that speak for themselves. Your satisfaction and the successful reduction of gopher activity are our top priorities. Choose us for expert gopher control services that make a difference. Contact us today to schedule an assessment and experience the Desert Squad advantage.
Prioritize Your Family's Safety with Desert Squad Pest & Wildlife's Gopher Control Service
At Desert Squad Pest & Wildlife, your family's safety is our utmost concern. Rest assured, our gopher control service is designed with safety as a paramount consideration:
1. Environmentally-Friendly Methods: We employ environmentally-conscious techniques that minimize the use of harmful chemicals. Our focus is on effective solutions that prioritize the well-being of your family and the surrounding ecosystem.
2. Expertly Trained Professionals: Our team is composed of trained professionals who understand the importance of safety. They adhere to strict protocols to ensure that all control methods are implemented responsibly.
3. Non-Toxic Approaches: We avoid using toxic substances that could pose risks to humans, pets, and other non-target species. Our methods are carefully selected to provide results without compromising safety.
4. Protective Measures: During the gopher control process, we take measures to prevent accidental exposure. We consider the layout of your property and any areas frequented by your family members to ensure their safety.
5. Transparent Communication: We maintain open communication with you throughout the process, explaining our methods and addressing any concerns you may have about the safety of our services.
6. Family-Focused Approach: Your family's well-being is at the forefront of our service. We understand that a safe and comfortable living environment is of the utmost importance to you.
7. Sustainable Practices: Our gopher control methods aim for long-term results, reducing the need for frequent interventions and minimizing any potential impact on your family's surroundings.
8. Ongoing Support: Even after our gopher control service, we provide guidance on practices you can implement to discourage future gopher activity while ensuring your family's safety.
Choose Desert Squad Pest & Wildlife for gopher control services that prioritize your family's safety without compromising on effectiveness. Contact us today to schedule an assessment and experience our commitment to creating a safe and comfortable living environment for you and your loved ones.
$69.99 to start For Your First Pest Service With 6 Month service agreementb
Looking for long-term protection from common household pests? Choose our 6 month service plan and save $124 on your first pest service.
★★★★★
"I had a Bee problem under my 2nd story roof line. I found desert squad through friend, they send Michael over and he remove the hive and all the honey comb. He then repair the roof where he opened up to remove the honey comb. Very professional service, the technician is a very nice guy highly recommended, Fair price. Thank you desert squad. Excellent job."
- Karen W.
★★★★★
"Finding Michael has been a true gift from God. His knowledge base is absolutely incredible, only to be matched with an amazing personality! We hired several different mainstream companies and never could contain our rodent problem until we hired Desert Squad Pest & Wildlife. Michael is a genius, and willing to do the dirty work required to get the job done, at a fair price!"
- Game O.
★★★★★
"Mike is a pure professional. He knows what he is talking about, and what to do about pests. He was very knowledgeable and precise in his actions to take care of the problem. He knows customer service skills which are lacking these days !. He was also half the price of the competitors out there. We HIGHLY recommend this company for your pest problems."
- Jade S.