Gopher Control & Removal Services
Gophers are burrowing rodent which lives almost entirely underground. Gophers are well adapted to their underground existence, with stout forelegs and strong curve claws for digging. A single gopher may have a burrow system that extends as much as 800 feet, covers an acre of ground, and ranges. It is estimated that in a year, one gopher transports 2 1/2 tons of soil to the ground surface. Gophers can cause serious damage to trees, house foundation, and horses and cattle can suffer from broken legs by stepping in the tunnels that they create.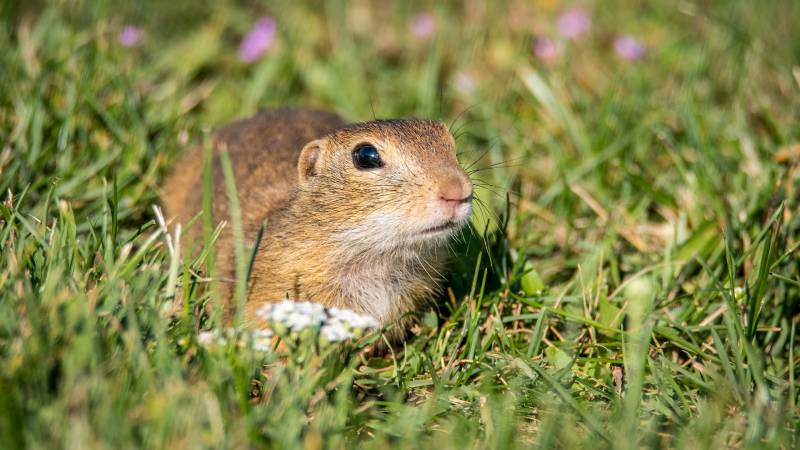 Our Unique Approach To Gopher Control & Removal
Desert Squad Pest & Wildlife performs a full inspection of the property landscaping to see how severely damaged the landscape is. A good indicator of gopher activity is the opening of the holes. If a hole is plugged with fluffy, fresh dirt that typically means a gopher is inside and still digging. Otherwise, the burrow system has likely been vacated. Moles create cone-shaped mounds about 2 inches in diameter on the surface.
There are several different types of techniques we may perform to remove gopher from your property depending on the situation.
We perform two weeks of trapping and we check our traps twice per week to remove the deceased gophers that get caught in the traps.
We use a carbon monoxide device to treat no only gophers but also ground squirrels, moles, voles, rats, prairie dogs, and other burrowing rodents and pests. It works by pushing heated smoke and carbon monoxide through the tunnels built by gophers and other burrowing rodents.
Our monthly gopher control services will remove any new gophers that show up on your property. Call our team for more information.
Why Choose Desert Squad Pest & Wildlife
We're passionate about helping people just like you get rid of unwanted pest problems. As such, we are proud to be the only pest & wildlife control company in Las Vegas promising excellence in value, service, and trust.
Frequently Asked Questions
When there are no new mounts building up on the property then you know your problem has resolved.
Gophers are a tunneling rodent, the product we use will not harm you and your family.
$99 For Your First Pest Service With Annual Plans.
Looking for long-term protection from common household pests? Choose our annual service plan and save $100 on your first pest service.
★★★★★
"I had a Bee problem under my 2nd story roof line. I found desert squad through friend, they send Michael over and he remove the hive and all the honey comb. He then repair the roof where he opened up to remove the honey comb. Very professional service, the technician is a very nice guy highly recommended, Fair price. Thank you desert squad. Excellent job."
- Karen W.
★★★★★
"Finding Michael has been a true gift from God. His knowledge base is absolutely incredible, only to be matched with an amazing personality! We hired several different mainstream companies and never could contain our rodent problem until we hired Desert Squad Pest & Wildlife. Michael is a genius, and willing to do the dirty work required to get the job done, at a fair price!"
- Game O.
★★★★★
"Mike is a pure professional. He knows what he is talking about, and what to do about pests. He was very knowledgeable and precise in his actions to take care of the problem. He knows customer service skills which are lacking these days !. He was also half the price of the competitors out there. We HIGHLY recommend this company for your pest problems."
- Jade S.