Welcome to Desert Squad Pest & Wildlife - Your Ultimate Solution for Expert Pigeon and Bird Removal Services!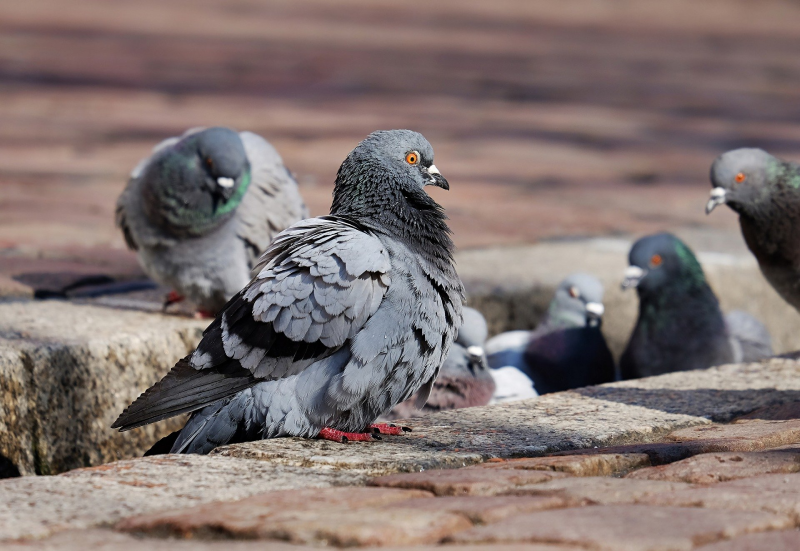 Our number one goal is to give you the instant relief you need and the long-term protection you deserve from Pigeons, and Other Birds. Because every situation is unique, we'll use a combination of the following measures to address your rodent problem at the source:
Birds can be a significant pest for residential and commercial businesses, especially those handling food, such as food warehouses, food processing factories and bakeries, where they can become a problem inside buildings.
The common problems and issues which develop due to a bird infestation come in a range of options. They can range from damage to the structure of a property due to their nesting habits to the spread of diseases such as Salmonellosis through their droppings.
As a result, they can cause residential properties and businesses to take costly measures for cleaning, repairing buildings and equipment, and replacing raw materials and finished products.
Which bird species are pests?
Birds are protected by wildlife laws throughout the united states and can only be disturbed or killed in certain circumstances or seasons. So it is important to identify a bird you consider to be a pest before taking any action to control it and check the local wildlife laws  your best option is to check with our professional team.
The main bird species that cause problems on buildings are:
– Pigeons
– Starlings
– House sparrows
– Gulls
– House myna or Indian myna
Pigeons and Bird Removal:
Birds are a wonderful part of nature, but when they become pests, they can cause significant problems. At Desert Squad Pest & Wildlife, we specialize in Pigeon and Bird Removal, offering tailored solutions to tackle avian intrusions effectively.
Understanding Pigeon Pests:
While many bird species enhance our surroundings, certain birds like pigeons can become pests due to their nesting and roosting behaviors. Pigeons are notorious for causing damage to buildings, vehicles, and public spaces. Their droppings not only deface structures but also pose health risks due to the potential transmission of diseases.
Pigeons can cause extensive damage to roofs, gutters, and ventilation systems, leading to costly repairs. Their acidic droppings corrode surfaces, while nesting materials can clog drains and create fire hazards. This damage isn't just an eyesore – it can compromise the structural integrity of your property.
Our Comprehensive Approach to Pigeon Removal:
At Desert Squad Pest & Wildlife, we employ a multi-faceted approach to Pigeon Removal. Our methods include humane trapping, bird deterrents, and innovative exclusion techniques. We adapt our strategies to your specific situation, ensuring a pigeon-free environment while respecting animal welfare.
Feces Cleanup and Sanitization:
Pigeon feces are not just unsightly – they can harbor harmful bacteria, posing health risks to humans. Our Feces Cleanup and Sanitization services thoroughly cleanse affected areas, creating a safe and hygienic environment for you and your family.
Flock Reduction by Trapping:
To address pigeon overpopulation, we implement Flock Reduction by Trapping. Our experts use humane traps to reduce the pigeon population, promoting harmony between humans and nature.
At Desert Squad Pest & Wildlife, we are dedicated to resolving bird-related issues while maintaining the balance of our ecosystem. With a focus on expertise, humane practices, and comprehensive solutions, we address avian concerns with precision. Say goodbye to pigeon nuisances and hello to a safe, pigeon-free space. Contact us today for expert bird removal tailored to your needs!
Why Choose Desert Squad Pest & Wildlife for Effective Pigeon Removal
Welcome to Desert Squad Pest & Wildlife – Your Trusted Partner in Comprehensive and Ethical Pigeon Removal Solutions!
The Desert Squad Difference: When it comes to Pigeon Removal, making the right choice matters. Desert Squad Pest & Wildlife stands out as a leader in providing expert Pigeon Removal services that are efficient, humane, and tailored to your specific needs. Discover the reasons why choosing us means choosing excellence.
Expertise and Experience: With years of experience, our team boasts unparalleled expertise in Pigeon Removal. We've encountered a wide range of pigeon infestations and have successfully tackled them all. Our technicians are well-versed in pigeon behavior, nesting patterns, and effective removal techniques, ensuring that you receive the most effective solutions.
Customized Solutions: At Desert Squad Pest & Wildlife, we understand that no two pigeon situations are alike. That's why we emphasize customized solutions. Our professionals conduct thorough assessments to determine the extent of the infestation and create a removal plan tailored to your property's unique needs. This approach guarantees efficient and lasting results.
Ethical and Humane Practices: We prioritize the well-being of both our clients and the pigeons. Our Pigeon Removal methods combine ethical practices with innovative techniques. We employ humane trapping methods and implement bird deterrents that prevent pigeons from returning, all while adhering to ethical standards.
Comprehensive Cleanup: Pigeon infestations often leave behind unsightly and unsanitary conditions. Our commitment doesn't stop at removal – we ensure thorough cleanup and sanitization of affected areas. This leaves your property not only pigeon-free but also safe and hygienic for you, your family, and your visitors.
Professionalism and Reliability: Choosing Desert Squad Pest & Wildlife means choosing professionalism and reliability. From the moment you contact us to the completion of the Pigeon Removal process, we prioritize clear communication, punctuality, and exceptional service. We work with your convenience in mind.
Committed to Your Satisfaction: Our mission at Desert Squad Pest & Wildlife is your complete satisfaction. We aim not only to remove pigeons but also to restore your peace of mind. With a track record of success and numerous satisfied clients, we stand as a testament to our commitment to excellence.
Contact Us Today: When you choose Desert Squad Pest & Wildlife for Pigeon Removal, you're choosing a partner dedicated to superior service, ethical practices, and efficient results. Say goodbye to pigeon nuisances and hello to a pigeon-free environment. Contact us today to experience the Desert Squad difference firsthand and enjoy a property free from pigeon disruptions.
Frequently Asked Questions
Birds that are considered non native species such as the House Sparrow, pigeons and the European Starling are not protected, and many groups of hunted or game birds, including ducks, geese, doves, and many shorebirds are subject to limited protection and can be hunted in season.
At Desert Squad Pest & Wildlife, we understand the urgency of addressing your bird issue. In fact, most of our bird work is completed on the very same day. Our efficient team is dedicated to delivering swift solutions that restore peace to your property.
In cases where additional measures are needed, such as trapping or solar screening, our commitment to excellence remains unwavering. Trapping, while a thorough process, could extend up to a month for complete resolution. Likewise, if solar screening is required, it may take a day or two to ensure your property is bird-free while maintaining its aesthetics.
Rest assured, our priority is to address your bird problem promptly and effectively. Your satisfaction and the safety of your environment are paramount, and we work diligently to ensure you can enjoy a pest-free, peaceful space in no time.
Ready to bid farewell to bird disturbances? Contact Desert Squad Pest & Wildlife today, and let's swiftly restore harmony to your property!
At Desert Squad Pest & Wildlife, we stand by the quality and effectiveness of our Bird Removal Service. We proudly offer a comprehensive warranty to provide you with peace of mind.
Our commitment to your satisfaction is reflected in our warranty coverage. For certain products, we offer a 2-year warranty, ensuring that our solutions remain robust and reliable. Additionally, when it comes to pigeon control around solar panels, our warranty extends up to an impressive 10 years. This underscores our confidence in the durability and efficiency of our solutions.
When you choose Desert Squad Pest & Wildlife for your bird removal needs, you're not just receiving exceptional service – you're also gaining the assurance that your property will remain bird-free for years to come. Our warranty is a testament to our dedication to excellence and your contentment.
Reach out to us today, and let our expert team demonstrate how we prioritize your satisfaction and the long-term effectiveness of our Bird Removal Service. Your property's harmony and peace are our utmost priorities.
$69.99 to start For Your First Pest Service With 6 Month service agreementb
Looking for long-term protection from common household pests? Choose our 6 month service plan and save $124 on your first pest service.